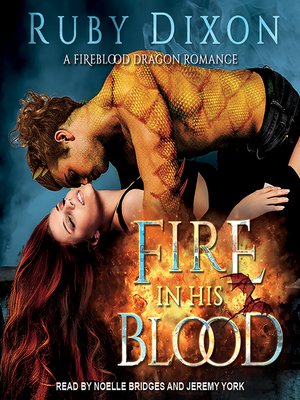 The Fireblood Dragon Series is totally a guilty pleasure read for me. I recommend it for lovers of romance, but I think of it as mostly a potato chip book, as my mother calls them. It's a light, entertaining read you  can finish off in a day. There's nothing super challenging in these books, but there's nothing very offensive in them either.
I actually bought this book as an assignment for my first long-term ghostwriting project. I had very little familiarity with the shifter genre before starting the contract, and my client wanted me to get a feel for it. So I bought five books assigned that were in the top one hundred best-selling amazon books and wrote up book reports on them, identifying commonalities and tropes I liked and disliked. I ended up writing a bear shifter story instead of dragons, but this book stuck with me. Of the five I read, it was the only one I was intrigued by enough to continue the series.
Like the Demonica Series by Larissa Ione, my fascination is more about the world building than the characters. World building is something I personally struggle with, and there's little I like more than a good solid world. That said, there are a few things that strain my suspension of disbelief.
Without going too deeply into spoiler territory, this story takes place in a post-apocalyptic future. No, we didn't nuke ourselves. The apocalypse was caused by a rift that opened between our world and the home of the dragon shifters. The dragons ate people and destroyed a lot of our civilizations. It's dangerous to be outside the protection of human "forts" which are small pockets of survivors. But it's not safe inside the cities either. Many are run by despots.
However, the state of the world outside the forts should not be as cozy as it is for our heroines and their dragon men. Maybe it seems like a silly quibble in a world where dragons can turn into men and fall in love, but it chafes at me. I see this a lot in post-apocalyptic stories. Even though the world has gone to hell in a hand basket, somehow the heroes find a place that has all the creature comforts that they missed from their life before.
In every story the women seem to find places with running water and food that hasn't spoiled. I can believe that non-perishables, some canned goods, and things absolutely stuffed to the gills with preservatives might have survived for seven years (which is how long it's been since the rift opened in the books). I cannot however believe there is any running water. It takes a lot to keep indoor plumbing going, and even if by some stretch of the imagination water was still being pumped around (which would be a massive effort that you wouldn't think people would risk their lives for) it wouldn't be sanitized and therefore unsafe to drink. Everyone should die of dysentery.
I think this is mostly to spare the author and audience the unpleasantness of the girls having to do their business in an outhouse or in the bushes. There could have been several ways to get food and water to the girls that were more believable. Aforementioned preserved food, discovering a doomsday prepper's home, someone's garden growing out of control with no one alive to tend it. As far as water goes, there are lakes, rivers, and the ocean to bathe in. Obviously don't go drinking sea water, but any fresh water found could be boiled to kill the organisms living in it.
But yeah, it's just one thing that bothers me. Overall, the books were alright, and I do buy the new ones when they come out. Ruby Dixon updates regularly and has several series under belt. This is one indie author I tend to like. She also has all but her newest books on Audible if you prefer audiobook.
I give this book a six to seven out of ten. It's above average, and I do like several of the books. Mostly, I just like the premise and wish the books were a little more high stakes. But hey, it's a romance, so its main focus is going to be on that element. What do you think of it? Feel free to comment below.